Scene Type Classification Benchmark
The Scene type classification task involves classifying a scan into 13 scene types.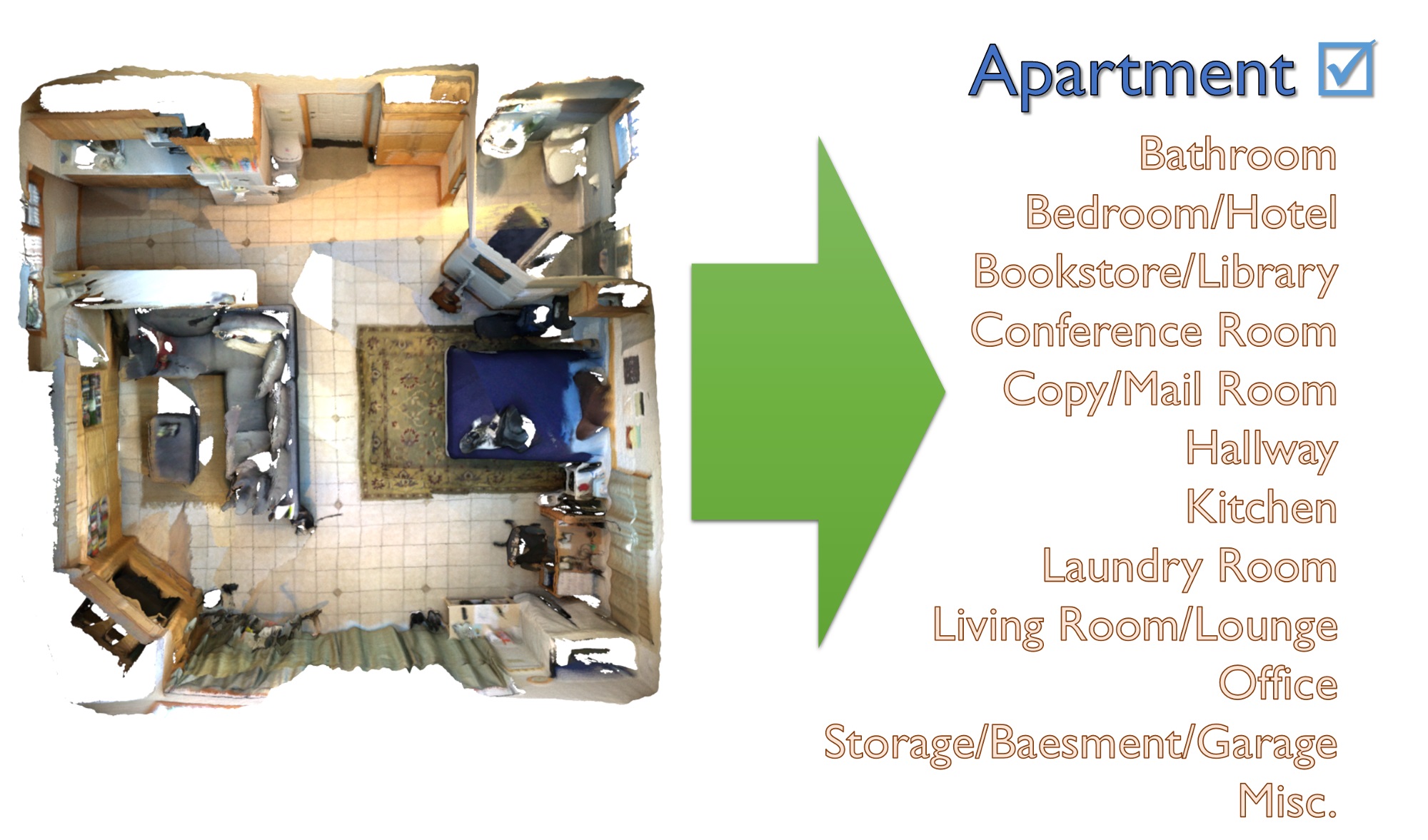 Evaluation and metrics
Our evaluation ranks all methods according to recall (TP/(TP+FN)) as well as the PASCAL VOC intersection-over-union metric (IoU = TP/(TP+FP+FN)), where TP, FP, and FN are the numbers of true positive, false positive, and false negative predictions, respectively.
---
This table lists the benchmark results for the scene type classification scenario.
Method
Info
avg recall
apartment
bathroom
bedroom / hotel
bookstore / library
conference room
copy/mail room
hallway
kitchen
laundry room
living room / lounge
misc
office
storage / basement / garage
multi-task
0.700

1

0.500

1

1.000

1

0.882

2

0.500

2

1.000

1

1.000

1

0.500

2

1.000

1

1.000

1

0.778

1

0.000

2

0.938

1

0.000

2

Shengyu Huang, Mikhail Usvyatsov, Konrad Schindler: Indoor Scene Recognition in 3D. IROS 2020
3DASPP-SCE
0.691

2

0.500

1

0.938

2

0.824

3

1.000

1

1.000

1

0.500

2

1.000

1

0.857

2

0.500

2

0.556

3

0.000

2

0.812

2

0.500

1

SE-ResNeXt-SSMA
0.498

3

0.000

4

0.812

3

0.941

1

0.500

2

0.500

3

0.500

2

0.500

2

0.429

4

0.500

2

0.667

2

0.500

1

0.625

3

0.000

2

Abhinav Valada, Rohit Mohan, Wolfram Burgard: Self-Supervised Model Adaptation for Multimodal Semantic Segmentation. arXiv
resnet50_scannet
0.353

4

0.250

3

0.812

3

0.529

4

0.500

2

0.500

3

0.000

4

0.500

2

0.571

3

0.000

4

0.556

3

0.000

2

0.375

4

0.000

2